Hello, everyone!
How are you today?
I am very happy because many tourists visited to our shop everyday!
Then, I would like to introduce our customers.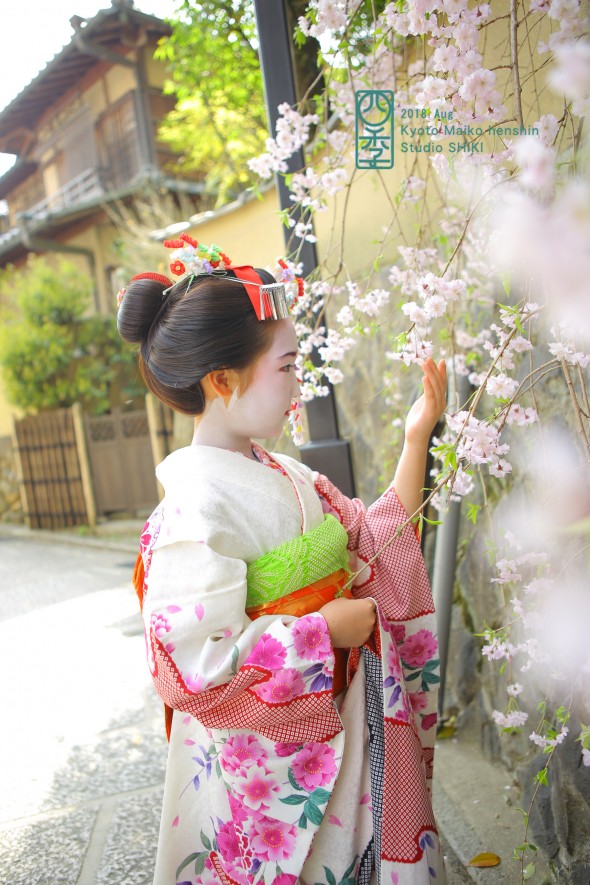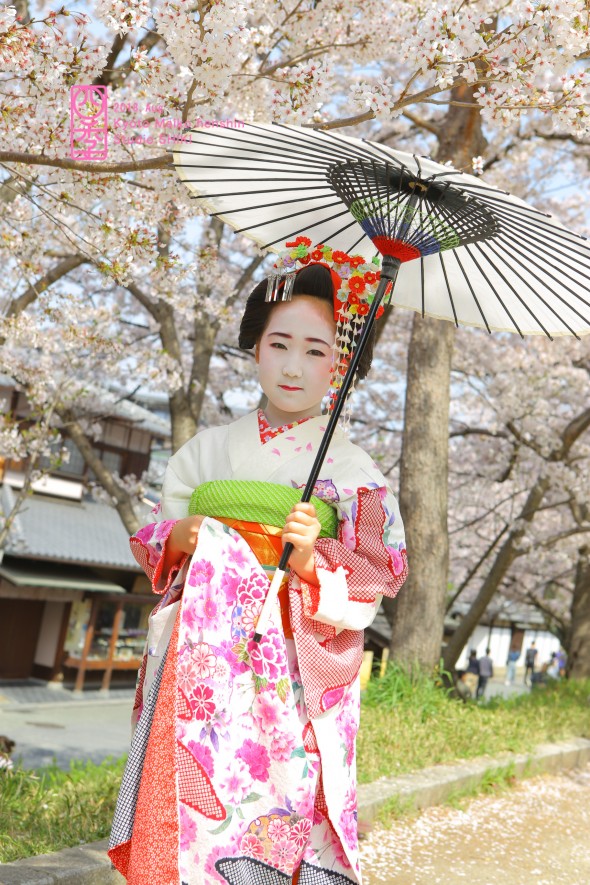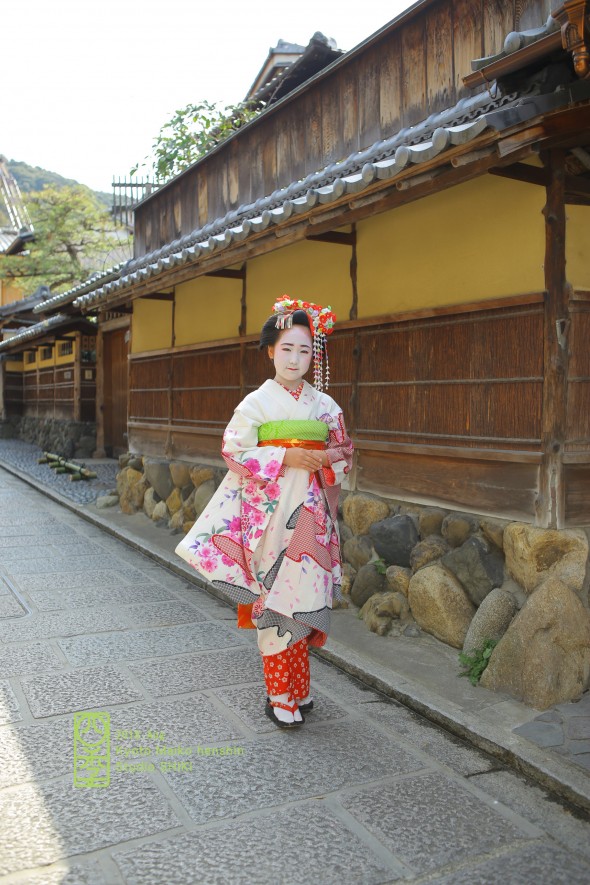 I think these are the best pictures!
If you want to do it, please visit to our shop.
Then, there are many events and festivals in each month.
Note these interesting events, try to go there someday!
Kameoka Peace Festival Hozugawa River Fireworks
Period August 11th, 2018
Venue Oigawa Ryokuchi East Park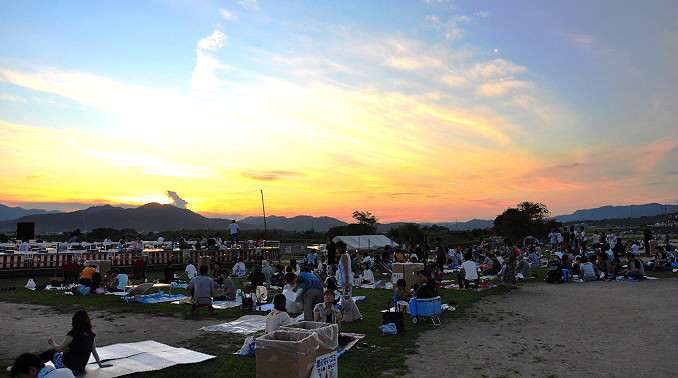 Speaking of summer, firework is one of the very popular seasonal events in Japan. Firework festivals are taken place everywhere in Japan and various kinds of gorgeous fireworks beautifully illuminate the night sky. This event is held in Kameoka City in Kyoto, about 20 minutes away from Kyoto Station by train. It is a traditional event that has been taken place for a long time to pray for peace. Kameoka Peace Festival Hozugawa River Fireworks is popular for a specially selected type of the firework called "Tokusen-dama", which is very rare to be seen. About 7,000 fireworks will be set off and more than 100 street stalls will offer many kinds of foods and entertainments. Kameoka City is located in the suburb area and is rich in nature. Arashiyama is also close and you may enjoy the cool weather while watching the fireworks as the venue is facing Hozugawa River. It is a good point that there are reserved seats in the park close to the venue, so we highly recommend that you purchase tickets for them if you would like to enjoy the fireworks without worrying about securing a seat before the event!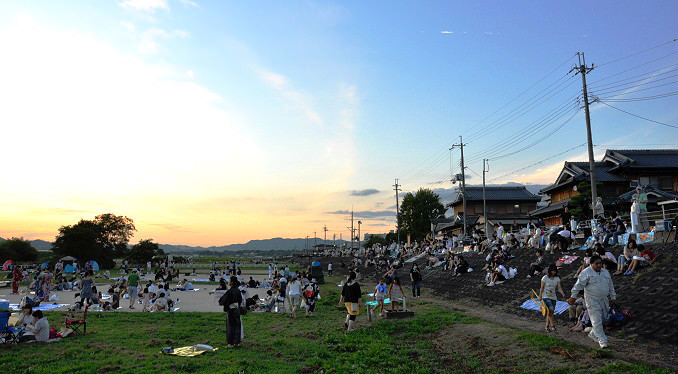 Starmine is a type of fireworks that launches a number of shells continuously with a brief interval. This firework festival is famous for the huge Starmine which will be set off as a finale. It is worth watching it in terms of its beauty and magnificence!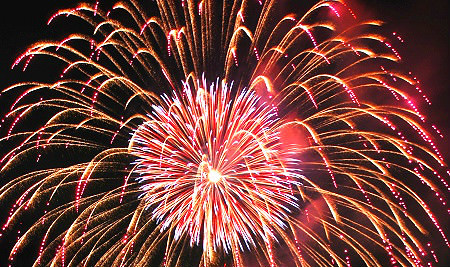 Besides Starmine, there are various kinds of other fireworks in this event. Some interesting ones include "Gintaki", which flows down like Niagara Falls, the one launched obliquely and the one called "specially selected fireworks" that firework craftsmen highly recommend. You will never be bored of these sparkling fireworks!
This park is very close to the venue and you can watch the gorgeous fireworks while sitting on the grass. We recommend that you bring a picnic sheet as you can lie on it and enjoy the beautiful fireworks. The picnic sheet is available at a 100 yen shop in the downtown. If you apply for the reserved seat, you will certainly enjoy the colorful fireworks without worrying about securing a seat before the event!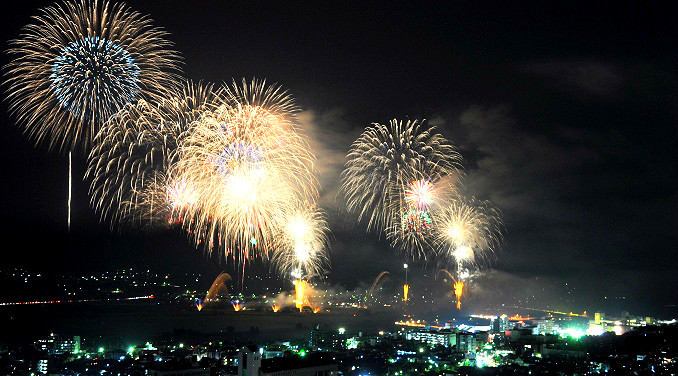 If you have a chance, I would like to see you at our shop.
We are looking forward to see you someday!
Resource:
http://sharing-kyoto.com/event_hozugawa_fireworks
Have a nice day,
Maiko transfoamtion studio SHIKI